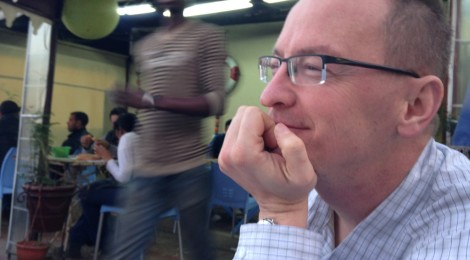 Mention Casablanca is on your itinerary and, inevitably, well-meaning people will try to convince you to change your plans, citing as evidence everything from high rises to social problems to, as our guidebook put it, a "disreputable medina."  If you're looking for the Casablanca of the movies, plan a Hollywood studio tour: the film of the same name wasn't filmed here.  If you're looking for an exotic, red-walled maze of carpets and tin lanterns as a backdrop for your vacation, go to Marrakesh and Fez: they both deliver. If, however, you love big cities, and if working seaports call to you like sirens, consider Casablanca: the people are courteous and cosmopolitan, the sea air is fresh and the food is on a level of its own. Here is our recipe for one perfect day in Morocco's capital:
Catch the 9:30am train from Meknes and arrive at midday via the Casa Voyageurs train station, where the touting is limited to two polite taxi drivers inquiring if you need a ride. It's sunny and, instead, you choose to walk the two kilometers downtown to get the lay of the land and to check out the French colonial-inspired Mauresque architecture. A futuristic light rail system, mentioned only in passing in your guidebook, follows your palm tree-lined walking route (you make a mental note for tomorrow's departure). Check into your downtown hotel, take your bag off your shoulders and change into something breezier (it was cold and rainy in Meknes, but it's an idyllic 75°F in Casa). There! You feel better already.
Your hotel is just a few blocks from the Central Market where the produce, carefully trimmed and presented, has you do a double-take: are you in North Africa's biggest, grittiest port city or in Paris?  Today's catch is in and, at the center of the market, young men cluster in front of a seafood stall and tip back oysters on the half shell. The fishmonger sees the longing in your eyes and invites you over, holding up an oyster with your name on it. "Oui, s'il vous plait," you affirm and he shucks open the shell with care, wiping the lip clean and dressing it with a generous squeeze of lemon before handing it to you, as if Price Charming returning your glass slipper.  All eyes are on you. You lift the wide end of the shell to your mouth, inhale (fresh and clean), slurp it in, give it a few chews and let it slide down. It's perfect. It's the best oyster you've ever tasted. "Il est bon, oui?" your prince asks, but everyone already knows your answer because you're grinning ear-to-ear and beaming. It's going to be a good day.
Fifteen minutes later, your good fortune continues at a café down the street. Mint tea may be the national beverage, but Casablanca is a coffee city. You join the men sitting outside with their chairs facing the street, order a café séparé from an affable waiter who comes and finds you immediately, and watch the city slowly come back to life after the mid-day break. Your coffee arrives. The espresso is thick, rich and smells lightly of caramelized sugar. The milk is sweet and fresh, with foam that defies gravity. You're in no hurry to go anywhere.
Caffeinated, you head for the docks where today's catch has already been hauled in. Fishermen eat lunch, clean fish and repair nets. Not quite feral cats feed on scraps, pick boats with sunny decks and bask, watching the gulls and white egrets circle and land. One of the sailors wears a black and white striped hooded shirt similar to one in your own backpack. Still under the influence of that oyster, you consider rushing back to the hotel to change, returning to the docks, stowing away and apprenticing yourself to a swordfish crew.
Later in the afternoon, you walk along the coast to the Hassan II Mosque where the atmosphere outside is more like a seaside amusement park than a religious sanctuary. (You'll take the official tour in the morning but, for now, just take in the scene.) Toddlers chase pigeons, kids ride scooters and roller blades, boys swim in the ocean in their underwear, vendors sell paper bags filled with caramel corn and twist balloons into animal shapes, and teens take glamor shots of themselves and each other in front of the mosque in the golden afternoon light.
Casablanca is not without social problems and nowhere is this more apparent than on your walk near the mosque, where a luxury marina development project is underway. A peek hole in the construction site screen, printed with images of yachts and Humphrey Bogart, serves as a picture window onto a homeless man sleeping in in a pile of debris.
You continue your stroll through the medina of the old city where, instead of tourist crafts and touts, you find a lively urban neighborhood. Boys play soccer in the streets while silver-haired men play cards in cafes. Girls walk together, giggling in trios. Shopkeepers sprinkle their stoops with water and sweep them clean.
It's back to the docks for dinner. Casablanca is Morocco's culinary capital, and you're sure the splurge restaurant you picked out would have been excellent, but you never make it there. Instead, you're seduced by an open air fish shack with no sign, no name on its menu, and what turns out to be the best and most refined food of your trip to date: crusty bread, seafood soup with a clear shrimp shell stock and flecked with seaweed, calamari stuffed with a lemon-herb rice, and a shrimp omelet recommended by your waiter as the specialty of the house, served in it's own skillet as the sun sets.
On your walk back downtown, the nightlife is picking up. You could go back to your room, but where was that bakery you passed earlier? Remember? The one with those cookies…
Crushing on Casablanca,
Alison