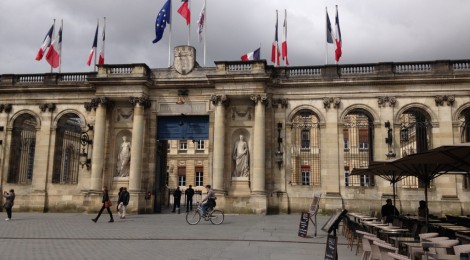 How can we be departing France already?
Hefting my bag onto the shuttle van that will take me aboard the Kalliste, our night ferry to the Italian island of Sardinia, it feels as if my feet have barely touched French soil. My tongue runs along the insides of my cheeks for any signs of residual terroir, but finds none. According to last week's itinerary we spent three nights in Bordeaux and two here in Marseille yet, as the van drives down the docks toward the ferry's onramp, I feel like I'm forgetting something, like something important has been left behind, or like someone I was expecting to meet didn't show. Was I in the wrong place at the wrong time, or did France just stand me up?
There is good evidence for the wrong place, wrong time theory. One of our three days in Marseille fell on Labor Day, which France takes so seriously — and I applaud the country for this — that even the trams and busses don't run. Similarly, one of our days in Marseille fell on a Sunday when all but the most touristic streets were quiet and the doors of neighborhood businesses were shuttered.
Another factor that, as much as we wish it could, cannot be ignored is Christopher's gout-prone left foot, which, like a desirable port, has suffered attack after attack. Typically when we travel we cover a lot of ground. Instead we move through the cobbled streets of Bordeaux's old quarter at a wounded soldier's pace, and spend our evenings in Marseille online researching how to get prescriptions Chris was hoping he wouldn't need refilled in Italy. C'est la vie.
French culture, however, is also at play and I am a novice at the rules. As soon as we set foot (and crutch) down in the Bordeaux train station this was clear: whereas in Spain people went out of their way to accommodate Chris in his condition, to give us wide berth and even to extend well-wishings in random passing, in Bordeaux it was our job to steer clear or else to expect to be broadsided. Later, making use of a free wheelchair to give Chris' foot a rest while taking in a thoughtfully curated exhibit of portraits in Marseille's La Vieille Charité museum, the experience was not one of encountering deliberate rudeness or maliciousness but, rather, one of being invisible. The French museum goers crowded around us, stepped in front of us to study Magritte's brushstrokes and almost tripped over us — sometimes in comedic fashion — as I did my best to wheel my leggy, broad-shouldered, 6'1" passenger through the narrow galleries.
In Bordeaux we splurged on cheese plates at Baud et Millet, a gourmet institution of a restaurant known for its cheese cave and multi-course cheese menus. We were admittedly and knowingly there at an odd time, between standard lunch and dinner hours. Though the restaurant was technically open, we were the only ones there and our desire to do a tasting was as incongruous to the proprietor as if the strip of wallpaper behind our bistro table had piped up in broken French and ordered a cheese plate. Neither the wallpaper nor we received an orientation to the ten different cheeses he pulled from the cave, and we were left alone for two hours with our samplers, a well-stocked breadbasket and a split of an elegant merlot-cab blend as the proprietor went about his bookkeeping. All ten nameless cheeses were divine.
There was a heartening counterexample. At Bo Bar, a tiny wine bar we entered with trepidation on our last night in Bordeaux, the gregarious owner greeted us like old friends arriving at a party hosted in his home, moved a reservation sign to a different table without our asking to give Chris' foot more space in cramped quarters, sat down with us and asked what kind of wine would make us happiest to drink. "Ah, you like strong wine," he said smiling and resting a warm hand on my shoulder, "I recognize you." When our charcuterie plate arrived he knelt down, his head close to ours, and toured us through each meaty morsel, sharing where it was made and why he chose it. The glass of wine he picked for me is my favorite of the trip.
Other moments of loveliness flicker up like images from a silent French film as I search my recent memories for highlights: the fragrance from a fresh May bouquet of lilies of the valley on the counter at an old quarter bakery in Bordeaux, the supermarket on a rough corner in Marseille that stocked six different varieties of fresh strawberries, and the glorious, ever-present, cloudless blue skies that have been with us here in Marseille since the moment the Mediterranean leg of our trip began. These moments, however, have a lack of human connection in common, human connection for which I now find myself longing.
Aboard the Kalliste, on the upper deck, as the captain steers us out of the dock and along the sea wall, I wave with desperate optimism to a trio of crusty fishermen on the shore.
They wave back.
À la prochaine, France,
Alison